How to Get Here
Powell River          
Students should arrive on June 10 and depart on June 24, 2018. We recommend students fly into Vancouver International Airport (YVR). From there there are several options to get to Powell River.
Alternatively, students can fly into Comox Airport on Vancouver Island. From Comox there is a 80 minute ferry ride (see below). 
Powell River is located on the mainland, 124 km (77 miles) northwest of Vancouver on the Upper Sunshine Coast of British Columbia. It lies east of Vancouver Island, just across the Georgia Strait from the towns of Courtenay and Comox.
Please be aware that there are limited flights and bus trips to Powell River. Plan your trip carefully and make sure there is enough time to make your connections to Powell River.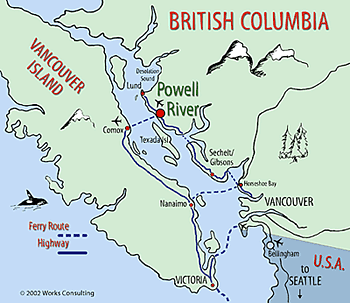 Getting Here by Car
From Vancouver
Powell River is a pleasant, scenic drive up the Sunshine Coast. It takes about five hours total travel time to go by car from downtown Vancouver to Powell River. The trip includes two 45-50 minute ocean ferry rides and a drive on winding highway in between.
The trip starts by taking BC Ferries from Horseshoe Bay to Langdale. From that point, drive north for 88 km (55 miles) along the well-marked route up the Sunshine Coast Highway (Hwy 101) through Gibsons and Sechelt. A second BC Ferry takes you from Earls Cove to Saltery Bay, where you will continue on Hwy 101 for 27 km (16 miles) to Powell River. 
Horseshoe Bay to Langdale ferry schedule, Earls Cove to Saltery Bay ferry schedule. (Check the "Schedule in Effect" dates. June 2018 will be added when ready.)
From Vancouver Island
There is a ferry from Little River in Comox (near Courtenay). The passage across the Georgia Strait is an enjoyable 80 minutes and the ferry docks in the heart of Powell River.  Bus or taxi is available to get to and from the ferry terminal at Little River.
Comox to Powell River ferry schedule. (Check the "Schedule in Effect" dates. June 2018 will be added when ready.)
By Air
From Vancouver
Pacific Coastal Airlines offers multiple daily direct flights from the South Terminal at Vancouver International Airport (YVR). There is a free shuttle from the YVR Domestic and International Terminals to the South Terminal. Flight time to the Powell River Municipal Airport is approximately 25 minutes. To reserve, call toll-free 1-800-663-2872.
PRISMA Charter Flight
The charter is a great way to start meeting other PRISMA participants.
The charter departs the Vancouver International Airport (YVR) South Terminal at 7:30 pm on Sunday, June 10 to allow students time to fly into Vancouver, and at 9:00 am on June 24 to allow students time to make their connecting flights. There is a free shuttle between the Vancouver International Airport Main Terminal and the South Terminal.  You should arrive at least 45 minutes prior to the charter's take off time.
We advise students taking the charter to arrive no later than 5:00pm at Vancouver International Airport on June 10. Upon return, we advise students depart no earlier than 11:30am from Vancouver International Airport for domestic flights, and no earlier than 12:30pm for international flights on June 24.
The charter price & link to book will be posted in March 2018.
By booking this charter, the passenger agrees that PRISMA will not be responsible for expenses or airline fees incurred as a result of delay or cancellation from situations and events not within PRISMA's control, including weather, air traffic delays or the failure of Pacific Coastal Airlines to meet its contract or promises. The passenger agrees that this charter is subject to the terms and conditions set by Pacific Coastal Airlines.  
Please note that the charter has a luggage weight limit of 25lbs including instruments and carry-on.
Regular Pacific Coastal Airlines Flights
Visit the Pacific Coastal Airlines website for updated information and schedules.